Zayed Sports Academy Awards AED 80K in Scholarships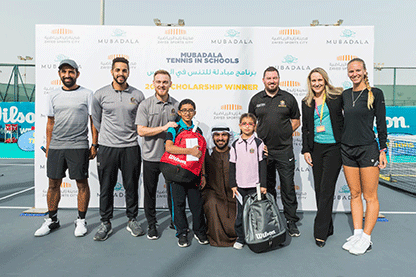 As part of a landmark year of the Mubadala Tennis in Schools programme, Zayed Sports Academy has awarded AED 80,000 in tennis scholarship to two hard working Emirati students, Mansour Khaled Al Menhali and Jana Hussein Hammuri.
Mubadala Tennis in Schools has thrived since Zayed Sports City (through ADEC Management) proposed a multi-faceted approach to growing the sport in the community. With an abundance of resources, including courts, coaches, a strong partnership with Wilson and relationships with world-class tennis educators, Zayed Sports City has been able to prove the success of the programme to the point where this generous gift could be offered.
There are many elements of the project which is approved by the Emirates Schools Establishment. Zayed Sports Academy provided each of 14 participating schools with a Wilson tennis kit and offered teacher training to engage the coaches and their students in the sport. Students in the participating classes were treated to lessons with the Zayed Sports Academy coaches in their schools and given the opportunity to practice at Zayed Sports City when classes finished and on weekends.
Through these visits, two inspired Emirati students were identified for their hard work and enthusiasm in the sport. One boy and one girl were presented with the opportunity to progress their skills with Zayed Sports Academy through a customised programme of private and group lessons, camps and tournaments, valued at AED 40,000 each.
As of 2019, Mubadala Tennis in Schools has brought tennis directly to more than 622 local students and Zayed Sports City has trained more than 138 physical education teachers around the country in a bid to introduce more children to this lifelong sport.